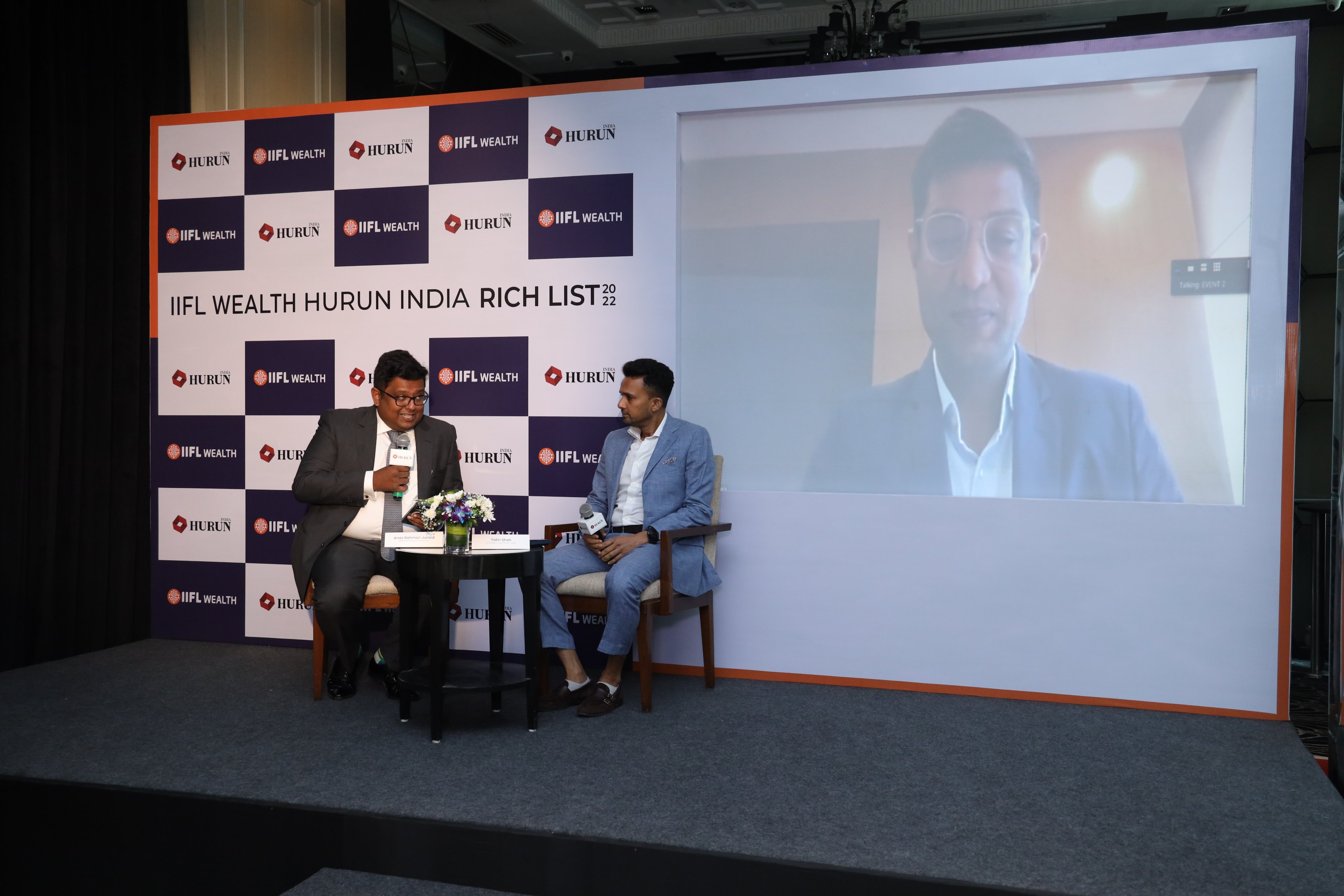 India's rich cumulatively constitute INR 100 lakh crore of wealth in 2022: IIFL Wealth Hurun India Rich List 2022
Hurun India finds 1,103 individuals with INR 1,000 crore wealth, up by 96, an increase of 62% over the last five years
With INR 10,94,400 crore, Gautam Adani (60) overtakes Mukesh Ambani (65), to bag the richest Indian title
While Gautam Adani and family grew their wealth 15.4 times in 5 years, Vinod Shantilal Adani & family grew their wealth by 9.5 times, Shiv Nadar & family grew their wealth by 5 times, followed by Radhakishan Damani & family who grew their wealth by 3.8 times in five years
Two new faces in India top ten, led by Dilip Shanghvi (66) of Sun Pharmaceutical Industries and Uday Kotak (63) of Kotak Mahindra Bank
12 individuals worth INR 1 lakh crore or more, down from 13 on last year's IIFL Wealth Hurun Wealth India Rich List
With 36 entrepreneurs, Pharmaceuticals sector minted the most number of dollar billionaires followed by Chemicals & Petrochemicals (23) and Software & Services (21)
602 individuals increased their wealth, of which 149 are new faces
A record 735 entrepreneurs or 67% are self-made, up from 659 last year, and up from 367(54%) five years ago. 79% (117) of new faces this year are self-made.
Founder of Nykaa - Falguni Nayar, 59, overtakes 'Biotech Queen' Kiran Mazumdar-Shaw, 69, to become the richest self-made Indian woman.
Co-founder of Confluent, a streaming data technology company, Neha Narkhede aged 37 is the youngest self-made woman entrepreneur in India
13 people born in 90s made to the list, all self-made. Bengaluru -based Kaivalya Vohra, 19, of grocery delivery app Zepto is the youngest self-made and the youngest rich individual
With 283 individuals, Mumbai tops the India Rich list followed by New Delhi (185) and Bengaluru (89); Mumbai added 28
14 professional managers made it to the list. With INR 12,100 crore, California-based Thomas Kurian, 62, is the richest who encashed his stake in oracle; with INR 6,500 crore, Ignatius Navil Noronha, 47, of Avenue Supermarts is the richest CEO based in India
With an increase of 376% Ravi Modi of Vedant Fashions is the biggest gainer this year followed by Falguni Nayar & family (345%) and Rafique Abdul Malik & family (240%) of Metro Brands, a multi-brand footwear retail chainWith 11.8 million followers on Twitter, Ratan Tata is the most-followed entrepreneur from IIFL Wealth Hurun India Rich List 2022 on Indian social media, followed by Anand Mahindra with 9.7 million followers
The cumulative wealth contributed by the Indian Unicorn and Gazelle listers to the rich list increased by 35% to INR 3,14,000 crore
65 founders of 37 unicorns made it to the IIFL Wealth Hurun India Rich List 2022
149 new faces, with a total of INR 3,18,200 crore;Of which chemicals is the fastest growing industry, adding 20 new faces
24 individuals saw their wealth double, led by 5 from textiles and followed by industrial products with 4 individuals
Alkem Laboratories, Asian Paints, and Pidilite Industries produced the most number of rich listers with 11, 10, and 7 individuals respectively
With INR 2,700 crore, Rangarajan S of Data Patterns, the first defence and aerospace company to feature in the list
There are 94 NRIs in the IIFL Wealth Hurun Indian Rich List 2022. 88% of them are self-made. With INR 169,000 crore, Vinod Shantilal Adani & family of Adani Group is the wealthiest NRI
There 8 eight new entrants in the list from Fintech sector - CRED, Upstox and OneCard
More than 82% of the billionaires on the list are above the age of 50. Only 0.6% of the rich in the list are below the age of 30
More than a quarter or 280 billionaires on the list are second-generation entrepreneurs
Hurun India and IIFL Wealth today released the IIFL Wealth Hurun India Rich List 2022. This list refers to individuals residing or born and bred in India. This is the 11th annual ranking of the richest individuals in India. Wealth calculations are a snapshot as of 30th August 2022.
1,103 individuals,(up by 96) across 122 cities,(up by 3) have INR 1,000 crore in the IIFL Wealth Hurun India Rich List 2022. Cumulative wealth has increased by 9.4%, while average wealth has decreased by 1%. 602 individuals saw their wealth increase or stay the same, of which 149 are new faces, whilst 415 saw their wealth drop and there were 50 dropouts. India has 221 billionaires, down 16 compared to last year. While Chemicals and Financial Services added the greatest number of new entrants to the list, Pharma is still at number one and has contributed 126 entrants to the list. The youngest on the list is aged 19, four years younger than the youngest last year.
Commenting on the launch, Yatin Shah, Co-Founder & Joint CEO, IIFL Wealth, said, "IIFL Wealth Hurun India Rich List 2022is a comprehensive overview of a plethora of factors that have significantly contributed to the rising wealth of India and we are proud to associate with the same Despite the slump in economy owing to geo-political challenges, volatility in global financial markets, and sharp spike in oil prices, India has successfully made an impression on the world's economy/wealth map. Pharmaceuticals, chemical & petrochemicals, IT, and financial services amongst others are some of the key sectors substantially contributing to wealth creation. It is exhilarating to see the entrepreneurial ecosystem of India contribute a significant amount to this list with the rising number of women entrepreneurs and uptick in self-made entrepreneurs. There are 65 founders of 37 unicorns along with 14 professional managers who have emerged as the cornerstone of wealth creation this time in the list."
Commenting on the launch, Anirudha Taparia, Joint CEO, IIFL Wealth, said, "While the COVID-19 pandemic reckoned the global economy, India is on the path of recovery owing to the collaborative efforts of the policymakers, the RBI, Government's focus on capital spending, acceleration in digitization and start of the private capex cycle. For us, it is encouraging to note that the IIFL Wealth Hurun India Rich List 2022 has only grown, mirroring the improved and optimistic sentiments of emerging entrepreneurs, and industry leaders. Gurugram debuted in the top 10 cities producing most number of entrants and we have a record addition of 149 new faces to the list from 32 industries and 36 cities. This is yet a reflection of the scope of growth among emerging sectors as well as beyond-metro cities. This report not only offers an analysis of the various facets of our nation's wealth creators but further provides detailed perspective on India's strong fundamentals and quality of human capital. As part of our long-standing association with Hurun India Rich List, we believe that in the current challenging global macro-economic scenario, India is a beacon of hope and it will continue to attract flows and long term foreign investment."
Commenting on the launch, Anas Rahman Junaid, MD and Chief Researcher, Hurun India, said, "The trends in IIFL Wealth Hurun India Rich List 2022 prove that India has taken booster shots against the global crisis. Be it Ukraine War or inflationary pressures, the Indian growth story continues against all odds as 149 individuals entered the IIFL Wealth Hurun India Rich list of 1,103 who cumulatively have a wealth of INR 100 lakh crore. India also gave a new number two, Gautam Adani, to the Hurun Global Rich List."
"The unprecedented wealth creation in the past five years in India, when other countries are stalling and are in a recessionary mode, reaffirms India as the 'engine of growth' for the global economy. Remember, the new additions to IIFL Wealth Hurun India Rich List have occurred at a time when valuations are at a low, both in the listed and privately held companies. The number of entrants to the list has increased by 60% in the past five years. India is best-positioned to capitalize on robust domestic demand, a stable political landscape, favourable demographics, and a sustainable external debt. The next 25 years belong to India- and as the Prime Minister proclaimed; it is Amrit Kaal for the country.
Top 10 Wealthiest Individuals
Dilip Shanghvi and Uday Kotak re-entered the India Top 10 this year replacing Kumar Mangalam Birla of Aditya Birla Group and Jay Chaudhary of Zscaler. Gautam Adani has surged ahead to the top spot beating Mukesh Ambani with wealth more than doubling (116%) in the last year. He is ahead of the second-ranking Ambani by more than INR 3,00,000 crore. Vaccine maker Cyrus S Poonawalla & family also moved up three ranks after their wealth increased by 25% year-on-year. Three families, Shiv Nadar & family, SP Hinduja & family and LN Mittal & family, have reported a decline in wealth but still find a place in the top ten.
Four individuals still make the India Top 10 after ten years, led by Mukesh Ambani and followed by LN Mittal, Dilip Shanghvi and Shiv Nadar.
Top 10 – 5-year comparison
When compared over five years, some of the billionaires have scaled up significantly and surged ahead as their companies created wealth at an unprecedented speed. Gautam Adani and his brother are the most obvious, as they moved up in ranking. Gautam moved up from the 8th rank in 2018 to the number one spot when his wealth increased 15.4 times, while his brother Vinod moved up from the 49th spot to the sixth ranking. Cyrus Poonawalla moved up as the vaccine maker saw his wealth grow 2.8 times in the last five years. Radhakishan Damani saw his ranking move up to 5th from 15th as his wealth increased 3.8 times in the last five years.
Fuelled by acquisitions and organic growth, Gautam Adani (60), has moved into the top spot and is the richest man in India with a wealth of INR 10,94,400 crore. His wealth has more than doubled (116%) in the last one-year and in absolute terms, he added INR 5,88,500 crore. In the last five years, the first-generation entrepreneur's wealth has increased by 1440%. The combined market value of the Adani group's seven publicly traded companies, all of which carry the industrialist's name, has increased significantly in the past few years. The mining-to-energy conglomerate has promised to invest US$70bn in green energy and become the world's largest renewables producer.
For the first time in ten years, Mukesh Ambani (65), has lost the top ranking despite his wealth increasing by 11% in an eventful year which saw many headwinds including the Russia-Ukraine war. His wealth is pegged at INR 7,94,700 crore and has increased by 115% in the last five years. Sixty-five-year-old Ambani has stepped down from the telecom arm of Reliance Industries, handing the reins to his son Akash and setting the stage for a leadership transition at his energy-to-retail conglomerate. His telecom arm, Jio has been aggressively investing in services like internet broadband and forging ties with handset makers to launch low-cost smartphones and providing 5G services.
Cyrus S Poonawalla (81) of Serum Institute of India has moved three ranks after his wealth increased by 25% or INR 41,700 crore in the last year. His privately held company is the world's biggest vaccine maker and has recently developed the country's first cervical cancer shot that will hit the market soon. Apart from COVID shots, the SII's Indian plants make vaccines for diphtheria, BCG, measles, rubella and other conditions. He is also considering setting up its first manufacturing plant in Africa as he looks to expand globally.
Shiv Nadar (77), of HCL, moved down one rank to the fourth spot after his wealth declined by 21% to INR 1,85,800 crore. His wealth has increased by 400% or INR 1,48,400 crore in the last five years. A pioneer in India's tech industry, Nadar started HCL, India's third-largest IT services company, in the 1970s as a hardware firm that made computers. The company gradually began offering software services to global clients and has since become a key player in India's IT services industry. Roshni Nadar Malhotra took over HCL after her father stepped down in 2020.
With INR 1,75,100 crore, Radhakishan Damani (67), of Avenue Supermarts, moved up two ranks to take the fifth spot. In the last five years, the wealth of Damani has increased by 280% or INR 1,28,800 crore. Damani controls Avenue Supermarts, a Mumbai-based retail chain specializing in low-priced consumer goods. The publicly traded business sells food, clothing and other consumer products in more than 200 DMart shops across India. Born in Mumbai, India, Damani earned hundreds of millions of dollars from stock market investments. He exited the stock market in 2000 and began building a retail business by buying cheap land in Navi Mumbai. He opened the first DMart store in 2002.
The wealth of Vinod Adani increased by 28% or INR 37,400 crore in the last year and he moved up two ranks to claim the sixth position in the Top 10 Wealthiest Individuals list. In the last five years, his wealth has increased by 850% or INR 1,51,200 crore. Residing in Dubai, Adani manages trading businesses in Dubai, Singapore and Jakarta. He is the elder brother of Gautam Adani.
SP Hinduja & family (86), moved down three positions to the seventh rank in the list after their wealth declined by 25% to INR 1,65,000 crore. Century-old Indian conglomerate Hinduja Group is present in eleven sectors including automotive, oil & speciality chemicals, banking & finance, IT & ITeS, cyber security, healthcare, trading, infrastructure project development, media & entertainment, power, and real estate. The brothers are based between Mumbai, London and Geneva.
LN Mittal & family (72), dropped three ranks to the eighth position in the list with his wealth declining by 13% to INR 1,51,800 crore. The London-based steel maker's wealth has grown by 35% in the last five years backed by strong demand from the construction, infrastructure and renewable energy sectors.
Dilip Shanghvi (66), who is the founder and head of India's largest drug maker Sun Pharmaceutical Industries, moved up two ranks to the ninth rank with his wealth increasing by 12% to INR 1,33,500 crore. In the last five years, his wealth has moved up by 50% or INR 43,800 crore as the pharma major expanded its global operations.
Uday Kotak (63), head of India's Kotak Mahindra Bank, moved up two ranks to claim the tenth position in the Top 10 when his wealth increased 3% to INR 1,19,400 crore in the last year. The banker has seen his wealth increase by 50% or INR 40,800 crore in the last five years.
Richest Indian Professional Managers
India has proved itself to be the progenitor of some of the most brilliant professional managers in the world. Professional managers in the list consist of individuals who joined the business after it has been founded, helped it grow and these managers were given stock options from which they have created their wealth.
Leading the list is Jayshree Ullal of Arista Networks with a wealth of INR 16,600 crore. She led the company to a historic and successful IPO in June 2014 from zero to a multibillion-dollar business. Thomas Kurian of Oracle is in the second position and is followed by Nikesh Arora of Palo Alto Networks.
Other notable entrants
Aadit Palicha and Kaivalya Vohra of Zepto debuted in IIFL Wealth Hurun India Rich List 2022. Kaivalya Vohra, 19, and his partner Aadit Palicha, 20, are also the youngest start-up founders in the Hurun India Future Unicorn Index 2022. Quarantined in their Mumbai homes after dropping out of Stanford, the two felt the urgent need for quick and contactless delivery of essentials.
With a wealth of INR 2,700 crore Rangarajan S (64) of Data Patterns (DP), is the first defence and aerospace entrepreneur to feature in the list. Rangarajan started DP in 1985 using personal computers in non-data processing applications. Along the way, he supplied products to many industries till DP decided to pitch to ISRO for a navigation system. The Chennai-based company now makes nanosatellites to ground receiving systems, avionics for Tejas light combat aircraft; launch control systems for Sukhoi 30 aircraft; actuator pins for torpedoes; rugged display systems for helicopters; electronic warfare systems; electronic intelligence and communication intelligence receivers (ELINT and COMINT); landing support radars. And, of course, critical parts for the BrahMos missile programme.
The IPO Stars
Backed by the IPO of digital analytics company, LatentView Analytics, which was oversubscribed by 326 times, A V Venkatraman, 52, debuted in the list with a wealth of INR 5,500 crore.
Backed by a stellar IPO of Aether Industries, which manufactures speciality chemicals, Ashwin Desai, (71), registered a wealth of INR 10,300 crore and debuted in IIFL Wealth Hurun India Rich List 2022.
With INR 4,300 crore, Rakesh Kumar Verma, 71, of CE Info Systems (IPO subscribed by 154 times) secured the 371rd spot in IIFL Wealth Hurun India Rich List 2022.
Where They Live
Home to 26% of the list – Mumbai is the preferred city for India's biggest wealth creators, followed by New Delhi and Bengaluru. Mumbai registered a net increase of 28 individuals followed by New Delhi which registered a net increase of 18.
With 335 and 185 entrants respectively, Maharashtra and Delhi are the preferred states of residence for individuals in IIFL Wealth Hurun India Rich List 2022.
Methodology
The IIFL Wealth Hurun India Rich List 2022 has been researched and compiled by the Hurun Research Institute for the tenth year running. The cut-off used was 31st August 2022 when the rate of exchange to the US dollar was INR 79.50. The list relates to individuals born or brought up in India irrespective of their current residence or passport.
Valuing the wealth of India's richest is as much an art as it is a science. Sure, Hurun Research has missed some, but our endeavor has been to develop the most comprehensive report of its kind with an objective to identify and acknowledge India's top entrepreneurs and business owners. The source of wealth includes both inherited and self-made wealth. Hurun Report's team of researchers have travelled the length and breadth of the country, cross-checking information with entrepreneurs, industry experts, journalists and investors.
Hurun Research only uses publicly-available data. For unlisted companies, Hurun Research's valuation is based on the most recent investor round, as well as a comparison with their listed equivalents using prevailing industry multiples such as Price to Earnings, Price to Sales, EV to Sales, EV to EBITDA and also other methodologies including Discounted Cash Flow, Tobin's Q and First Chicago.
IIFL Wealth Hurun India Rich List 2022 Media Release
IIFL Wealth Hurun India Report 2022