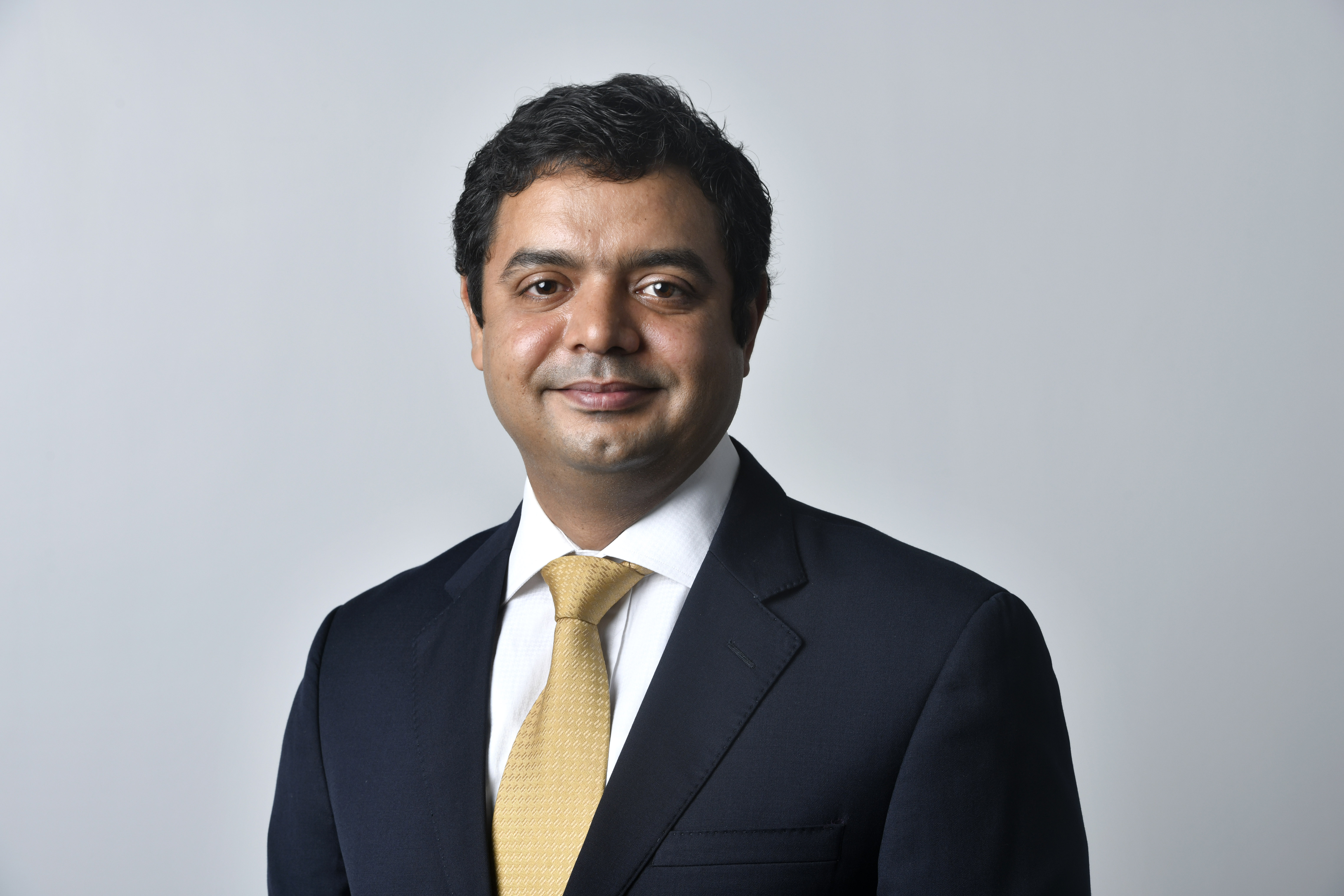 The Nifty 50 was down about 16% from its peak in January 2020 as on 13 March, driven lower by the steady progress of the Covid-19 pandemic. As a result, equity mutual funds have been battered. Large-cap funds are down 16.74% on average since the start of 2020, and small-cap funds are down 10.15% (as on Friday, 13 March). While some mutual funds stay invested at all times, some equity funds had quietly raised their cash levels before the storm hit India, anticipating the fall in the market. Among large diversified funds, ICICI Focused Equity Fund was sitting on 26.32% cash at the end of February 2020, and several Axis Schemes were sitting on 17-18% cash, allowing them to take advantage of the subsequently fall.
So is this ability to adjust cash levels a good source of alpha or outperformance? We looked at equity funds to find out. Though hybrid funds are also prime candidates for this type of study, many of them are gated by the Securities and Exchange Board of India's mandate on how much equity and debt (a close substitute for cash in this context) they can hold. Funds in the balanced advantage category can move a great deal between equity and debt but they are a complex and disparate category that merits a separate discussion.
So why did these equity fund managers hold a lot of cash? What did they know that others didn't? PPFAS Mutual Fund, which raised the cash holding in its Tax Saver Fund to 18.92% at the end of February, said it was simply driven by a lack of attractive buying opportunities. "Around 4-5% cash is sufficient to meet inflows and outflows. Ideally, we would like to keep cash at these levels but we don't force ourselves to buy if there aren't enough opportunities," said Rajeev Thakkar, chief investment officer, PPFAS Mutual Fund. "Cash is not zero return, we do get 5-6% interest on it," he added. The fund house was also sitting on 12% cash in its PPFAS Long Term Equity Fund. PPFAS Tax Saver Fund is down 13.94%, year-to-date as on 13 March compared to a fall of 18.42% that its benchmark S&P BSE 500 TRI clocked.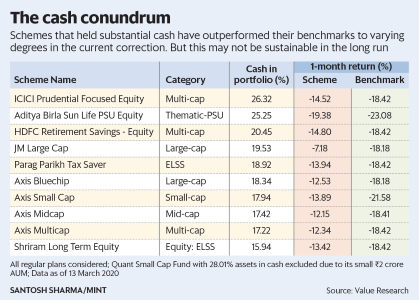 Mrinal Singh, fund manager, ICICI Prudential Asset Management Co., who manages ICICI Focused Equity Fund, explained the raised cash levels in the fund as a deft movement, when the first signs of Covid-19 emerged in China. "Generally, we would keep cash at a maximum of 10% of the portfolio. However, with elevated valuations and outbreak of the coronavirus in China, we had raised our cash levels as early as December, anticipating the economic impact on the world from the fallout. This was a tactical move and it has allowed us to deploy cash during the recent market correction," said Singh.
Jinesh Gopani, head of equity and fund manager at Axis Mutual Fund, explained the raised cash levels as mix of luck and caution. "Given the slow economic growth, the budget event and high valuation, we were very careful in our investment calls. Ideally, we would like to have less than 5-6% cash in our scheme, but due to huge inflows and lack of quality investment opportunity we were holding our positions," said Gopani. Axis Mutual Fund's cash position was, to an extent, simply a result of the surge in inflows it was getting. The fund house has moved close to the top-of-performance charts across several equity categories over the past two years. This has attracted a flood of inflows into its schemes. Axis Bluechip Fund, Axis Midcap Fund, Axis Multicap Fund and Axis Smallcap Fund are down 12-14% year-to-date as on 13 March compared to a fall of 18-21% in their respective benchmarks.
Does it work?
It is difficult to isolate the alpha or outperformance that a scheme will generate from taking cash calls from, say, picking good stocks. ICICI Prudential Focused Equity is down 14.52% compared to an 18.42% fall in its benchmark (S&P BSE 200 TRI) over the past month. Axis Bluechip Fund, which was sitting on 18.34% cash, is down just 12.53% as against its benchmark (S&P BSE 100 TRI) correction of 18.18%. While there has been outperformance by funds taking cash calls in this correction, experts do not believe this holds good over the long term.
"I would expect equity fund managers to be fully invested at all times. Taking cash calls works out at times like this but becomes a drag when the market rebounds. It is almost impossible to predict when the rebound will happen. In 2008, funds which took large cash calls initially outperformed, but lagged behind when the market recovered," said Gaurav Awasthi, senior partner, IIFL Wealth Management.
Investors should not pick a fund based on its cash holding. "Your fund selection must be tailored to your goals, first and foremost. Such an approach will first yield an asset allocation and within the allocation you will choose categories like large-cap, mid-cap and small-cap. I do not think cash holding or cash calls are an important part of this process," said Amol Joshi, founder, PlanRupee Investment Services. Investors should instead evaluate parameters such as long-term returns, returns over various market cycles, portfolio risk and fund manager strategy.