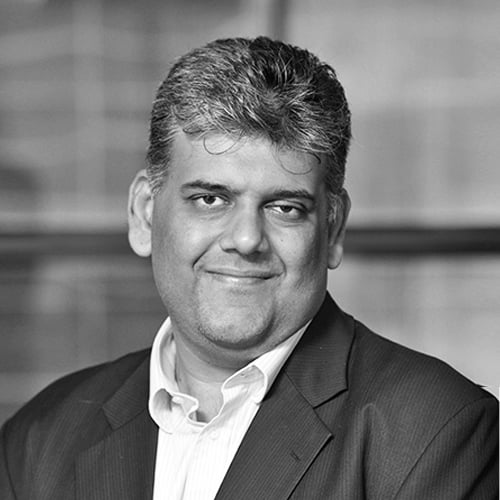 Karan Bhagat
Founder, MD & CEO
Karan Bhagat is Founder, MD and CEO of 360 ONE. Karan, as a professional entrepreneur set up 360 ONE (formerly IIFL Wealth & Asset Management) in 2008. He is responsible for providing direction and leadership towards the achievement of the organization's strategic goals and objectives. In a short time period, he has built a team of more than 900 experienced and talented professionals, who today manage money for more than 6800 top families in India. These families include industrialists; new age technology founders and professionals including leading CEOs, lawyers as well as distinguished sportspersons and artists.

Under his leadership, 360 ONE has grown from its humble beginnings to becoming the leading wealth management company in India managing more than INR 327,000 crore in client assets. 360 ONE is also the largest Alternate Asset Manager with more than USD5 billion invested across listed equities, unlisted equities as well as structured credit. As a leading alternate asset manager, 360 ONE manages money for some of the largest sovereign institutions and university endowments across US, Canada and the Middle East. 360 ONE is listed on the Indian stock exchanges with a market cap of nearly USD2 billion. Its larger shareholders include well-known investors like General Atlantic of US as well as Fairfax of Canada.

He featured in Fortune India's '40 under 40' list in 2016 and 2017 and The Economic Times '40 under Forty' list in 2017. He has received the URS Asia One Global Indian of the Year award in 2018 and is a finalist at the Entrepreneur of the Year Award in 2018. Recently in 2022, he has been recognised as 'Asia's Promising Business Leaders' by The Economic Times. Karan holds an MBA in Finance from the Indian Institute of Management, Bangalore and acquired his bachelor's degree in Commerce from St. Xavier's College, Kolkata.